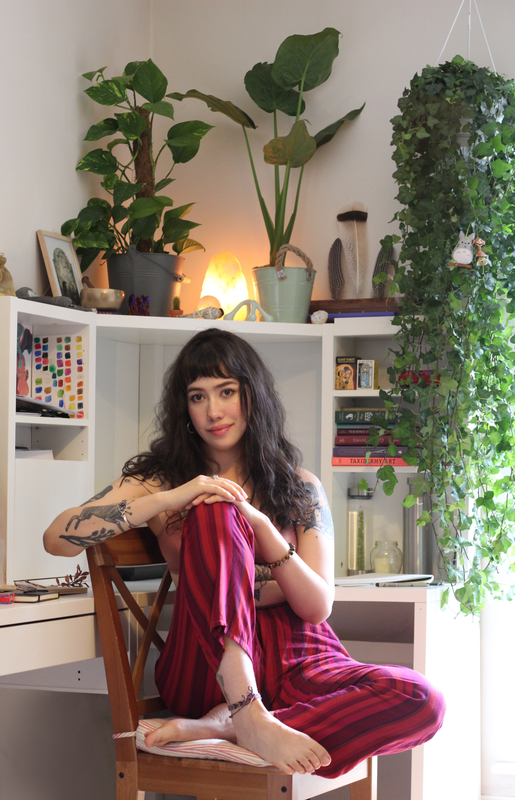 My name is Róisín Carey, I am a Dublin, Ireland based independent visual artist. I was born in Dublin to an Irish father and Taiwanese mother who's family emigrated to Brazil when she was little, so my childhood was split between Ireland, Brazil and my mother's native Taiwanese traditions.

My life experience has been greatly enriched by these cultural influences and their stories, and at an early age, I developed a keen fascination for folklore and myth and how elements from the natural world were interwoven magically into these tales.
At the same time, my childhood was unsettled, I was moved around a lot and growing up like this, I always felt foreign, an outsider, as many artists might say.The only grounding element that did not make me feel estranged from where I was, is art, which has been with me since I can remember.
It is through this practice that I connect with my intuitive self and innerseeing and express the fruits of my inspiration from dreams, pagan and animistic elements, matriarchal traditions of the divine feminine and the mystíque of nature.
A lot of my art centers on figurative paintings of solo characters in introspective or meditative states of healing, mostly from the female viewpoint , exposing their innerscapes/worlds and perspectives. I paint mostly with menstrual blood as my main medium, as a form of activism through this primal material that was viewed as powerful in magic and healing rituals by our ancestors but that in current times suffers a stigma as a source of shame and repression of people born with a menstrual cycle. I strive to transmute these stigmas into beauty and hope to create visions of inner connectiveness and empowerment through quiet retreat and reflection.
Instagram: @mooncocoonpainting